Santa Monica Mountains Backbone Trail Trek 2012
Itinerary
---
RENDEZVOUS MAY 5, 2012 SATURDAY
Meet at La Jolla Group Campground, Point Mugu State Park, between 2 & 4 p.m.
Camp here and shuttle personal vehicles to secure parking
Dinner provided
Campfire. Introductions and orientation.
Hot showers
Single van shuttle to park vehicles in the secure parking area.
DAY 1 MAY 6, 2012 SUNDAY

La Jolla Canyon Backbone Trail, trailhead to Danielson Ranch Group Camp - Moderate: 8.2 miles, 1,330 foot climb
Break camp 8:30 AM. This time may be earlier if the predicted high temperature is over 85 degrees
From this point, the western terminus of the BBT, hike up the Ray Miller Trail to the Overlook Trail (2.7 mi.), hike Overlook Trail to the Wood Canyon Vista Trail (1.9 mi.), descend the Wood Canyon Vista Trail to Big Sycamore Canyon (1.8 mi.), and hike to Danielson Ranch Group Camp, Point Mugu State Park (1.7 mi.)
From the Overlook Trail, look to the right for tomorrow's challenge: the ridge line of Boney Mountain 2,000 feet higher
Camp at Danielson Ranch Group Camp
Hot showers
No shuttle
Leader: Dave Edwards
DAY 2 MAY 7, 2012 MONDAY

Danielson Ranch Group Camp to Triunfo Peak Trailhead - Difficult: 8.4 miles, 3,060 foot climb with the option of including an additional 4.6 mile section of the Backbone Trail for a total of 13.0 miles
Break camp 7:00 am
Hike up Blue Canyon to Chamberlain Rock (3 mi.) and continue (4.5 mi.) up to Sandstone Peak, the highest point in the Santa Monica Mountains (and consequently the highest point of the Backbone Trail)
Visit Inspiration Point and Sandstone Peak
Descend the trail to the Mishe Mokwa Trailhead parking (1.6 mi.). For those hikers that elect to not hike the optional 4.6 miles, a shuttle to the National Park Service's Circle X Ranch Group Camp will be provided.
Optional: For the hikers electing to continue hiking, continue for an additional 4.6 miles from the Mishe Mokwa Trailhead to Yerba Buena Road, with a gentle additional climb and descent of 400 ft. Van shuttle to the Circle X Ranch Group Camp.
No showers (bring sun shower)
Single van shuttle afternoon
Leader: Dave Edwards*
DAY 3 MAY 8, 2012 TUESDAY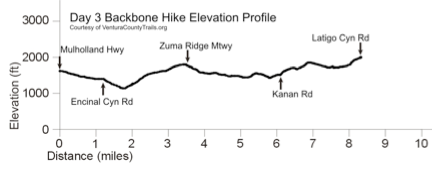 Mulholland Hwy Trailhead to Latigo Canyon Trailhead - Moderate: 8.6 miles, 1,620 ft. climb.
Leave camp 8:00 am
Shuttle to the trailhead, an unnamed section of Backbone Trail which takes us from Mulholland Hwy to Encinal Canyon Road (1.2 mi.)
From Encinal Canyon Road hike Trancas Canyon Trail to the Zuma Ridge Motorway (2.3 mi.)
Hike Zuma Ridge Motorway to Zuma Canyon section of the Backbone Trail (0.1 mi.)
From the Zuma Ridge Motorway, hike the Upper Zuma Canyon Trail to Kanan Road (2.5 mi.)
Continue hiking the Newton Canyon section to the Latigo Canyon Trailhead (2.5 mi.)
Shuttle to Malibu Creek State Park campground
Hot showers
Two van shuttles early morning and afternoon
Leader: Dave Edwards*
DAY 4 MAY 9, 2012 WEDNESDAY

Latigo Canyon Trailhead to Malibu Canyon Road Trailhead - Difficult: 9.8 miles, 1,120 foot climb
Break camp 8:00 am
Shuttle to Latigo Trailhead on Latigo Canyon Road
From the Latigo Canyon Road hike to Castro Fire Road (1.4 mi.)
From the Castro Fire Road hike the Upper Solstice Trail to Corral Canyon Road (2.7 mi.)
From Corral Canyon Road hike the Mesa Peak Fire Road to junction with Puerco Canyon Road (3.0 mi.)
From Puerco Canyon Road hike the Mesa Peak Fire Road to Las Virgenes Road (2.5 mi.)
Shuttle to Malibu Creek State Park Campground
Hot showers
Two van shuttles in the morning and afternoon
Leader: Dave Edwards*
DAY 5 MAY 10, 2012 THURSDAY

Malibu Creek State Park Group Campground to Saddle Peak Trailhead - Difficult: 7.1 miles, 2,500 foot climb
Leave camp 8:00 am
Shuttle to Piuma Road Trailhead
From the lower Piuma Road trailhead, hike the Piuma Ridge Trail to the upper Piuma Road trailhead (1.9 mi.)
From Piuma Road hike Dark Canyon, and up the Saddle Peak Trail to Stunt Road (5.2 mi.)
Shuttle Malibu Creek State Park campground
Hot showers
Two van shuttles in the afternoon
Leader: Dave Edwards*
DAY 6 MAY 11, 2012 FRIDAY

Saddle Peak Trailhead to Musch Camp - Moderate: 7.6 miles, 970 foot climb
Break camp 8:00 am
Shuttle to the top of Stunt Road
From Stunt Road hike the Fossil Ridge Trail to the Hondo Canyon trailhead (0.8 mi.)
Hike down Hondo Canyon to Old Topanga Canyon Road (3.8 mi.)
From Old Topanga Canyon Rd. hike over Henry Ridge to Topanga Canyon Blvd. (0.7 mi.),
From Topanaga Canyon Blvd. Hike through Trippet Ranch to the Musch Camp in Topanga Canyon State Park (2.3 mi.)
Camp at Musch Camp
No showers (bring sun shower)
Two van shuttles in the morning
Leader: Dave Edwards*
DAY 7 MAY 12, 2012 SATURDAY

Musch Camp to Will Rogers Historic Park - Difficult: 9.6 miles, 1,360 foot climb
Break camp 8:00 am
Hike to Eagle Rock (1.6 mi.)
Hike past Eagle Rock to "The Hub" (1.1 mi.)
Hike from "The Hub", to the Rogers Road trail, past the Lone Oak, cross the Chicken Ridge Bridge and descend into Will Rogers State Historic Park (6.9mi.); the eastern terminus of the Backbone Trail
Plan to arrive at Will Rogers Historic Park by 2 P.M.
Two van shuttles and gear transport to the secure vehicle parking area.
This ends Backbone Trek 2012
(No morning shuttle)
Leader: Dave Edwards*
* On selected days, we may have a guest hike leader