Plant Description
| | |
| --- | --- |
| Common Name(s): | Bleeding Heart, Yellow or White |
| Scientific Name: | Ehrendorferia ochroleuca |
| Family: | Papaveraceae (Poppy) |
| Plant Type: | Perennial |
| Size: | up to 15 feet! |
| Habitat: | Chaparral, Oak Woodland |
| Blooms: | April to December |
| Fire Response: | Stump Sprout or Seed |
<!— Yellow Bleeding Heart —>
White Bleeeding Heart or Ehrendorferia ochroleuca - This member of the Poppy family is a fire-follower and does not germinate without being exposed to smoke. The 2013 Springs Fire brought this plant back from seeds stored in the soil. After a couple of years we are unlikely to see this plant until the next fire. [Note: Saw large quantities of these after the Woolsey Fire!]
The flowers on this perennial herb are white with a beautiful filling of red - it is the two inner petals which are joined at the tip that have the red filling . All parts of the plant are toxic. The bright red color in the petal is a draw for Hummingbirds. This plant blooms well after the first flowers of Spring - May to to June. Look for this in the canyon bottoms of Sycamore and Blue Canyon (Pt. Mugu State Park) all the way to the summit of Boney Mountain! I saw this plant in late June while hiking in Upper Sycamore Canyon of Point Mugu State Park. Lastly, this plant is endemic to California - it grows nowhere else!
---
Our plant of the month grows leaves from the flower stalks as well as the base. In comparison, other Bleeding Heart flowers of the Genus Dicentra have leaves in a basal rosette with flowers on leafless stalks. Basal rosette means the leaves grow in a circular arrangement from the base of the plant.
---
The leaves of this plant are pinnately divided 2-4 times - according to Wikipedia: pinnately refers to the arrangement of feather-like or multi-divided features arising from both sides of a common axis.
---
Name Origin: This plant was named after Friedrich Ehrendorfer a 20th Century Austrian Botanist. Ochroleuca means yellowish-white. This used to be known as Dicentra Ehrendorferia but was changed during a re-classification.
---
Other Featured Plants in the Papaveraceae (Poppy) Family: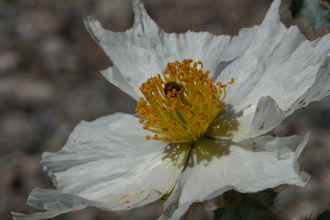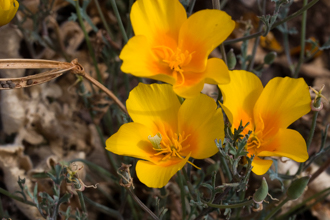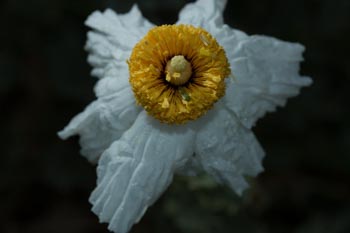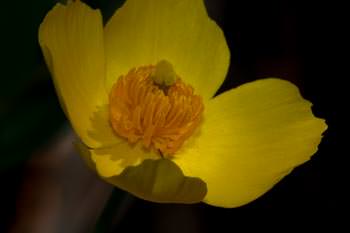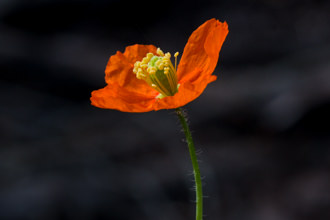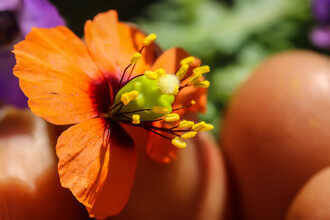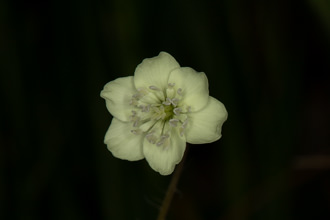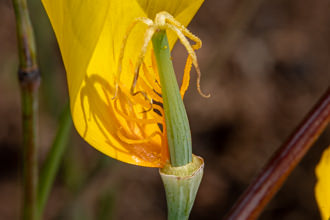 ---
Bleeding Heart, Yellow or White - Originally featured: August 2014
Last modified: October 19 2019 14:48:30.
References:
Wildflowers of the Santa Monica Mountains
, by Milt McAuley
Flowering Plants: The Santa Monica Mountains, Coastal and Chaparral Regions of Southern California
, by Nancy Dale
Images
Botanical Terms for Leaves