Ron Webster, January 2021, We are forever grateful to Ron Webster because he stands tall among the many people who worked together to create and build the awesome trails here in the Santa Monica Mountains, trails that we happily travel along while seeking enjoyment and solace in Wildness. Ron Webster passed away January 6, 2021.
Ron Webster - Trail Builder of the Backbone Trail Building trails is one thing, maintaining them is another, Ron led the Sierra Club's Santa Monica Mountains Task Force for many years, repairing tread, clearing drains and brush. Ron connected past, present and future trail crew leaders with the goal of protecting and preserving trails. In the 40 plus years that Ron advocated for trails as well as designing and building them, he is probably the most important individual contributing to the development of the hundreds of miles of trails in the largest urban park in the nation. He was a true Trail Champion.
"Appearing at the right moment and place was Ron Webster. Ron had the right skills, knowledge, life situation and determination required to see this project through." -Milt McAuley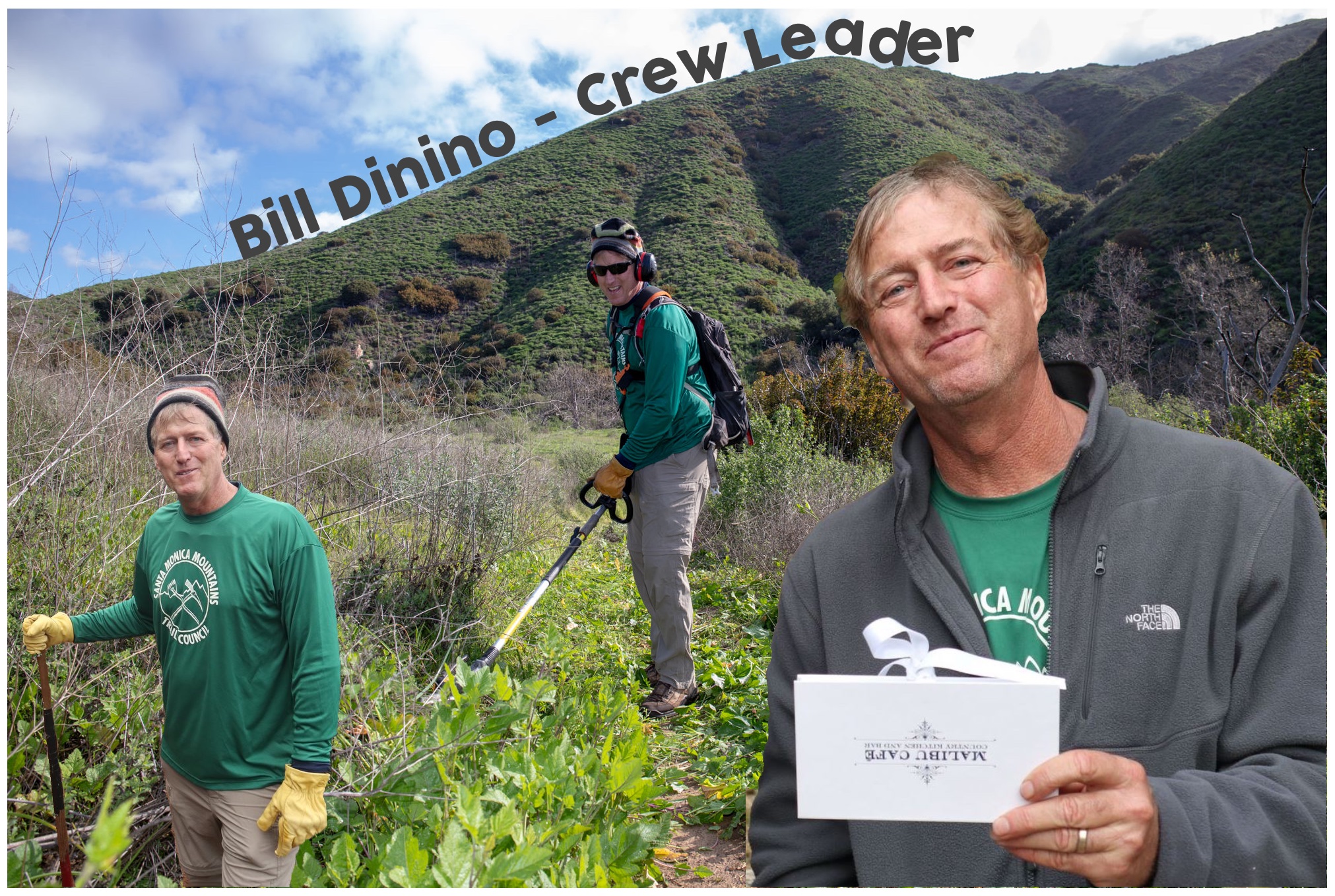 Bill Dinino, July 2020, one of our crew leaders and most enthusiastic trail workers. Bill loved hiking and doing trail work and dreamed of doing so much more with the Santa Monica Mountains Trails Council - trail work, trips to the Channel Islands and leading our annual Backbone Trek. Bill helped build and then went on to adopt the Wishbone Trail at Westlake Community Park. His sense of humor, enthusiasm and trail savvy will be missed by all who had the pleasure of working with him during his years as a Trails Council volunteer.
The best crew leaders radiate confidence and have highly developed people skills. As crew leaders, we immediately recognized Bill's leadership abilities — he complimented your skills and asked questions about the task you were doing. We all want to be recognized for our efforts. Kind words, praise and empathy are what differentiates the best crew leaders. When Bill began working with us it was evident that he had these skills and his enthusiasm working the trails made him an ideal candidate for our crew. Quickly, Bill became someone you could depend on to work week after week - he was our 2018 rookie of the year. We had high hopes for him as he worked towards becoming a crew leader. Despite setbacks from his illness Bill continued working with us. One thing that did not change was his desire to plan for future endeavors. Bill left us too soon but leaves behind a legacy of living life to the fullest and bringing along willing compatriots in that quest.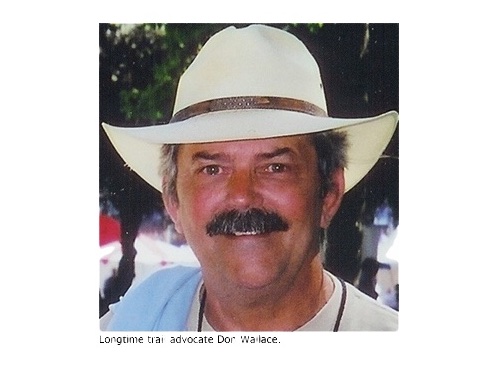 Don Wallace, January 2019, an ethical man with a wonderful sense of humor, a twinkle in his eye, and a passion for trails and horses. His legacy will be the Don Wallace Multi-Use Trail Connector.
Appointed as a National Park Service Commissioner in 1976, he realized that implementation of his vision could be possible. Don believed that most of the recreation taking place in LA County was by people hiking. So, for 35 years, Don advocated for a safe passage trail in Calabasas that would go under the 101 freeway along the Las Virgenes Creek to give people a connection between the trails and lands north and south of the freeway. Multiple agencies managed sections of land this trail would traverse. Seemingly a bureaucratic nightmare and thought by many to be impossible to coordinate, Don's perseverance, political savvy, and his friendly demeanor ensured that he would successfully accomplish this task.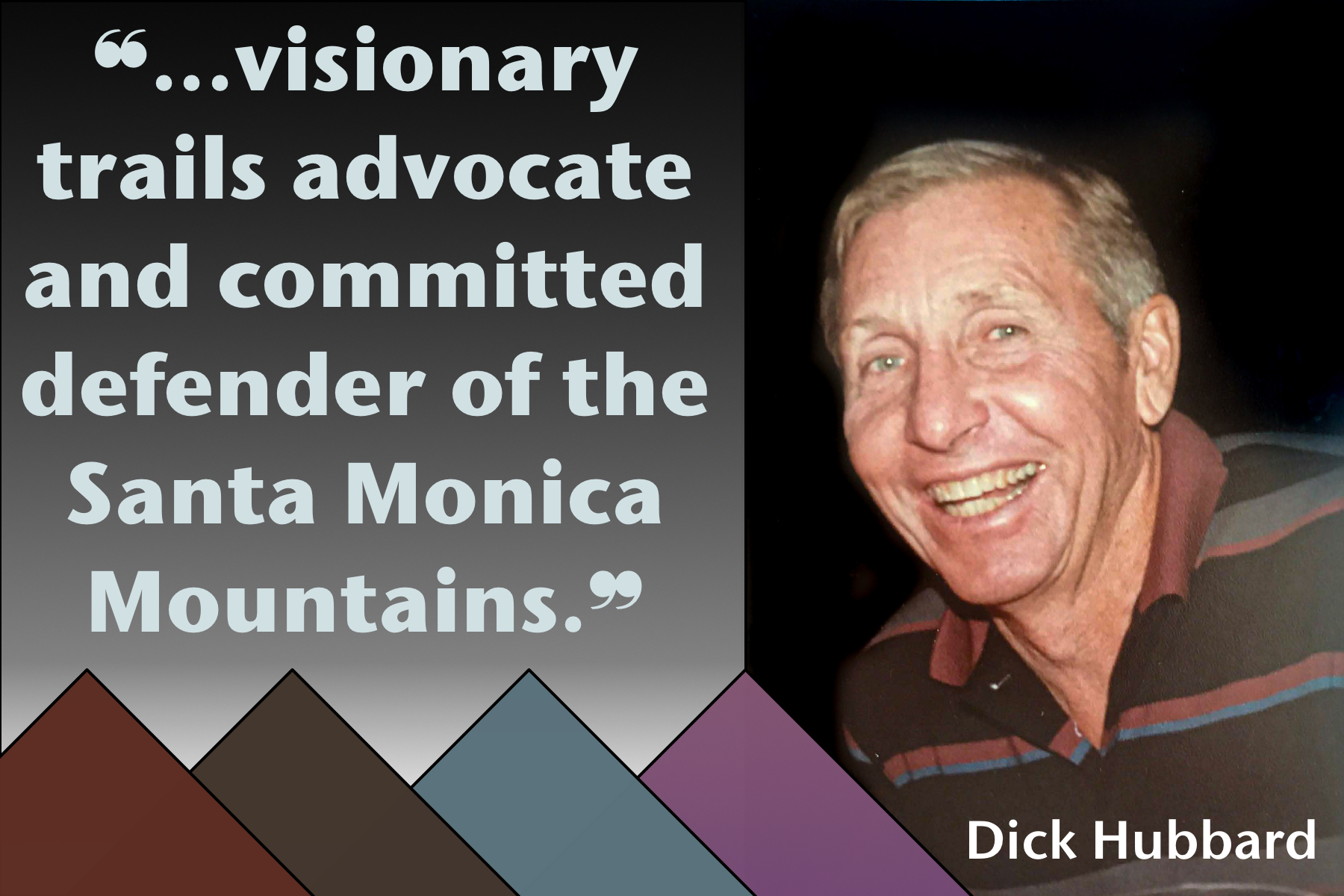 Dick Hubbard September 2016
Santa Monica Mountains Trails Council founder and first President passed away at age 89. Dick Hubbard, who along with a few other trails advocates, met in Dick and Joanne Hubbard's living room in 1973 during which two great and lasting actions were adopted. This small group of activist neighbors founded the Trails Council and adopted the "Backbone Trail" as it's first priority. Dick Hubbard was a visionary trails advocate and committed defender of the Santa Monica Mountains. Dick, along with his wife, Joanne and fellow trail activist, guided this new organization during it's formative years and established the procedures and activities that continue to animate the Trails Council today. He lobbied the County Board of Supervisors, organized coalitions of homeowner groups, the Boy & Girl Scouts, environmental organizations, horse clubs, political clubs an park agencies and just plain citizens to support trails and open space. It is remarkable that Dick's vision for his beloved Santa Monica Mountains has been largely realized. We who remain are grateful for Dick Hubbard's intellect, vision and hard work. We could never have employed a land use attorney or professional lobbyist to devote the time and energy Dick volunteered. We who remain cherished his wise counsel and friendship during his lifetime and honor his memory in death.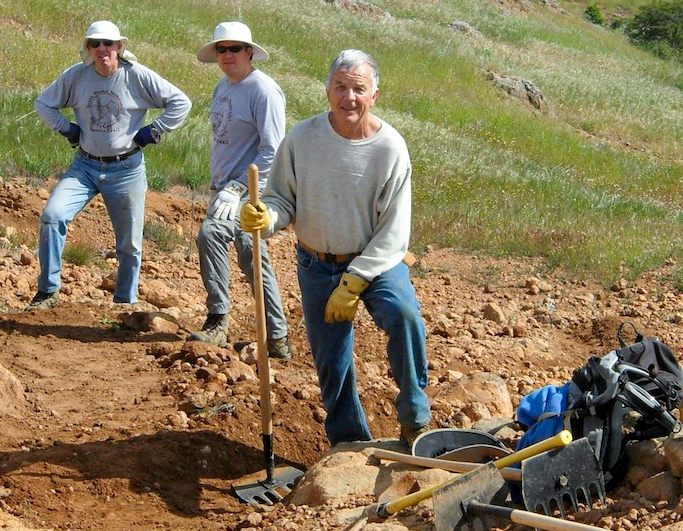 Burt Elliott, July 2014, Beyond building and maintaining our trails, Burt trained and mentored numerous Crew Leaders. An avid hiker, runner, geocacher and someone who could identify the local flowers and plants, Burt was involved with building, maintaining and enjoying just about every trail in the local mountains.
Burt did not just work on the trails. He organized and planned the events. Burt met with NPS, COSCA and State Parks to create the trail work schedule; he brought the tools to and from the worksite; and along the way he mentored a few trail crew leaders. Just showing up and wielding a McLeod for a few hours pales in comparison to the amount of work Burt did to ensure the trail crew volunteers had a job to do. Burt set the bar up high for all of the crew leaders and volunteers. Burt is rumored to have worked more than 10,000 hours on our trails! That works out to 3.5 years of 8 hour days (albeit everyday of a year).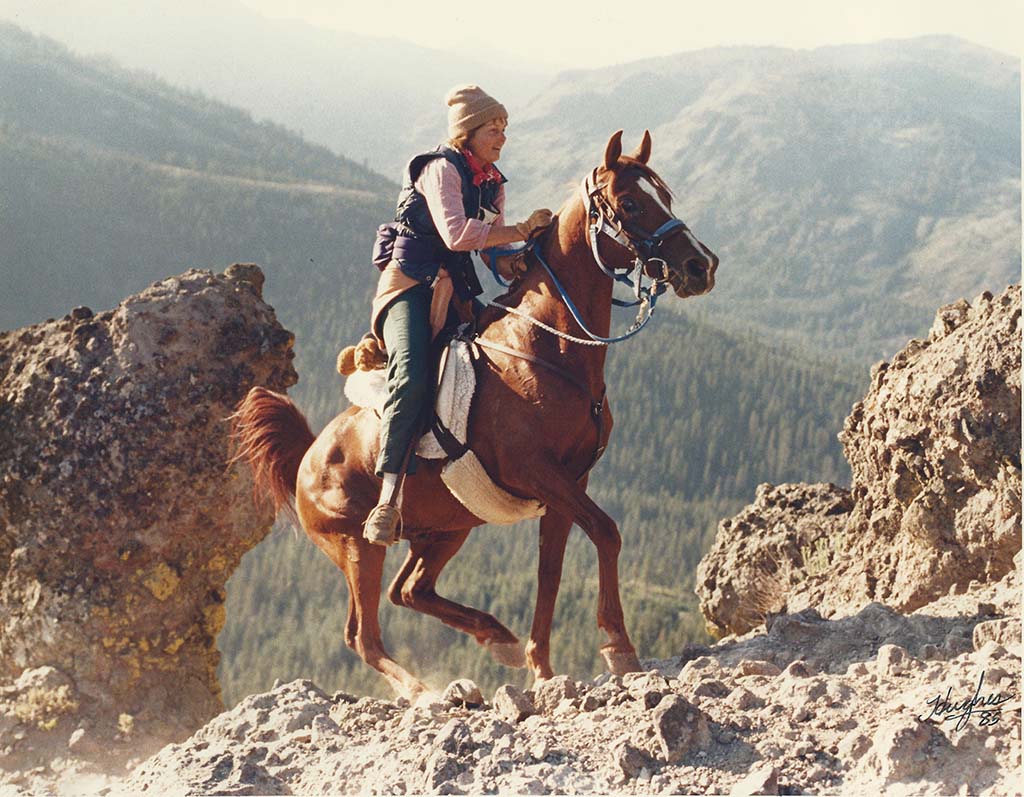 Linda Palmer - Past President, June 2013, Linda's involvement with our local mountains was ubiquitous - her vision helped forge the trails that make our life a better one.
Linda helped design and promote Los Angeles County's Trail Plan for the Santa Monica Mountains, an arduous task that she undertook and accomplished. Others worked with her, and the resulting public trails give us places for physical, mental and emotional respite. Linda was appointed to the Santa Monica Mountains Advisory Committee in 1980; and she served with dedication and good advice, always researching problems to figure out how best to resolve them. With a few years off, she served for a total of 24 years. Linda was President of the Trails Council for fourteen years, 1981 through 1994; then was vice president for the years 1998-2010. She was the first Trail Crew Leader for the volunteer trail maintenance crews.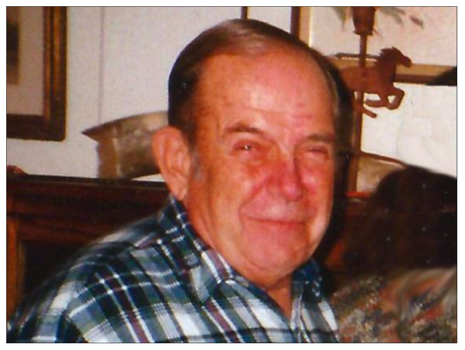 Ted DePass - Past President, August 2013 - Former president of the Santa Monica Mountains Trails Council, long-time board member. Ted was president of the Santa Monica Mountains Trails Council in 1995. As president, Ted's involvement in our organization went deep. Meeting with State Parks, NPS, COSCA, MRCA as well as local and state agencies. Ted will be remembered for his community outreach during his time on our board. This link goes to our newsletter archive with a nice article about Ted.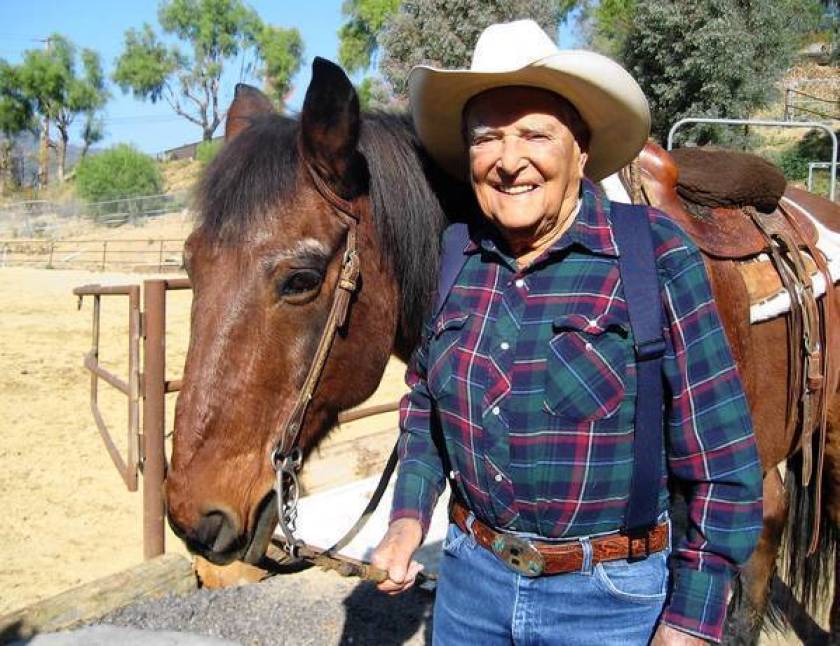 Grant Gerson, December 2012, Founding member of the Trails Council. Calamigos Ranch Owner. This link goes to our newsletter archive with a dedication to Grant. He saw trails disappear due to development, and he made the effort to help save them. In his 40 years of running Calamigos Star C Ranch, almost 20,000 kids went through. For some, it was life changing, as noted by those who today are adults; and for all it was enriching. Grant had an unshakable commitment to make the world a better place. Grant was passionate about nature, and his influence and spirit left an indelible mark on Outdoor Education in the Camping Industry nationally. He pioneered the Outdoor Education program locally in the Las Virgenes school district.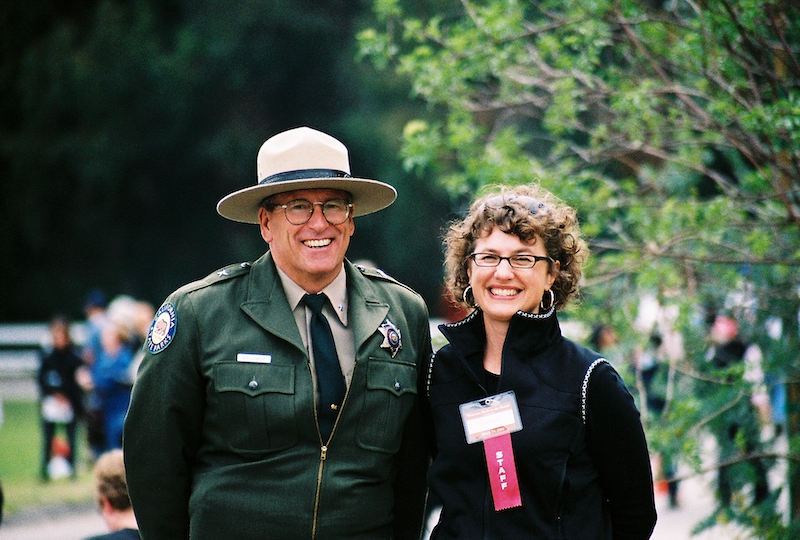 Ron Schafer, September 2010, Angeles District Superintendent, California State Parks. Schafer was instrumental in introducing the concept of strategic partnerships between federal agencies (the National Park Service), local organizations (the Santa Monica Mountains Conservancy, whose board he chaired since 2008) and private landowners in order to establish natural open lands for city dwellers. Schafer believed that urban populations should have immediate access to parklands and focused intensely on building multi-stakeholder partnerships that would create and protect open areas in Los Angeles County.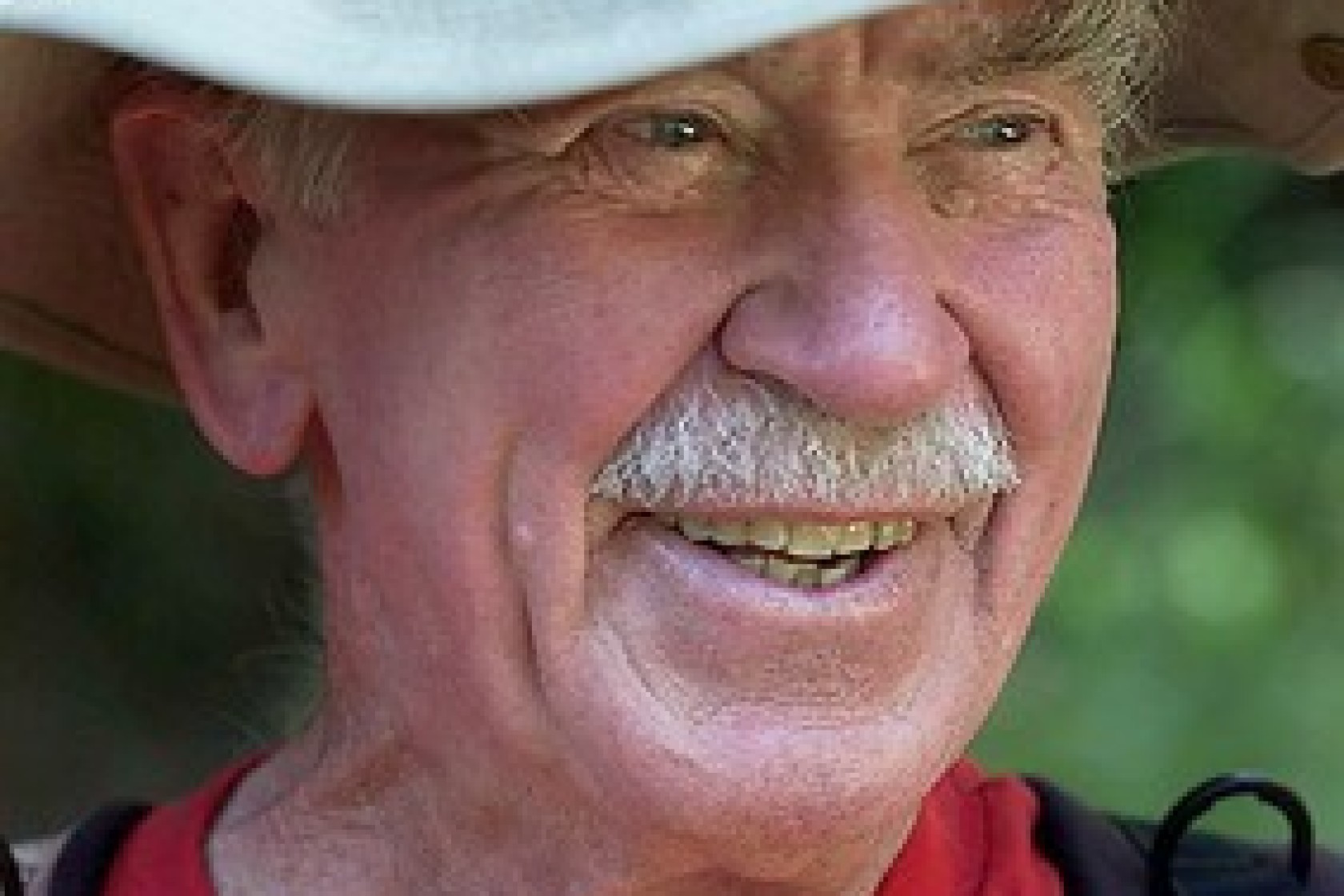 Milt McAuley - Author, Hike Leader, Crew Leader, December 2008. Milt McAuley was a long time and very active member of the Santa Monica Mountains Trails Council. Milt helped to plan and promote the Backbone Trail, wrote popular and authoritative books on local hiking trails and native plants, and regularly led trail maintenance outings.
The U.S. Board on Geographic Names/Domestic Names Committee voted to name a peak within Malibu Creek State Park in honor of the late Milton (Milt) McAuley (1919-2008). Milt McAuley was an author, conservationist, and trailblazer, who worked to preserve the Santa Monica Mountains and make them more accessible to the public. His exemplary life embodies the Mission of State Parks and is a well-deserved honor. This peak is just off the Backbone Trail on Mesa Peak Motorway and has a view that surely would have brought a smile to Milt's face. Click on the
link to open Google Maps.
Al Bandel, September 2008, volunteer crew leader on trails both in the Santa Monica Mountains and the Channel Islands. The above image is how most of the Trail Crew remembers Al - hard working, a thoughtful conversationalist and a man who did not seem to mind getting a little bit of dirt on himself. Al put in hundreds of hours a year maintaining and building paths. Full of life, everyone who knew him looked forward to seeing him again, always friendly, vivacious and passionate about his work in the wilderness. He was also an expert cook, and many of us had the chance to enjoy the food he generously shared on trips. His specialty was creating rock walls and steps from nearby materials, and he always built to last.
Bob Boone, Summer 2007, How do we measure life? By good friends, by peer acknowledgement, by pride of craftsmanship and skill, by holding to the basic values of honesty, generosity, reliability, integrity, humor and love of family & friends. To these ends, Bob lived a very good life. After proudly serving in World War II, and remaining a staunch patriot for the rest of his life, Bob made his living as a carpenter. However, he lived his life as a cowboy. He believed in the nobility of work and that a day of work is a day well spent. He was heart and soul a cowboy; and he embraced the whole tradition of the West from vaqueros to modern ranching and cattle drives. He enjoyed everything western: clothes, books, magazines, poetry, music, museums, and rodeos; and he rode horses for most of his life. Bob was an outdoorsman who relished all that nature offered:hiking, fishing, camping, and horseback riding. He regularly worked on trails so that others could also enjoy going places that he liked. Exploring wild lands nourished his soul, and he spent a lot of time in the Sierra with family and friends. Bob's legacy will endure as we convey his values to those who follow us along life's trails.
This Navajo Proverb best describes Bob Boone.
I have been to the end of the earth.
I have been to the end of the waters.
I have been to the end of the sky.
I have been to the end of the mountains.
I have found none that are not my friends.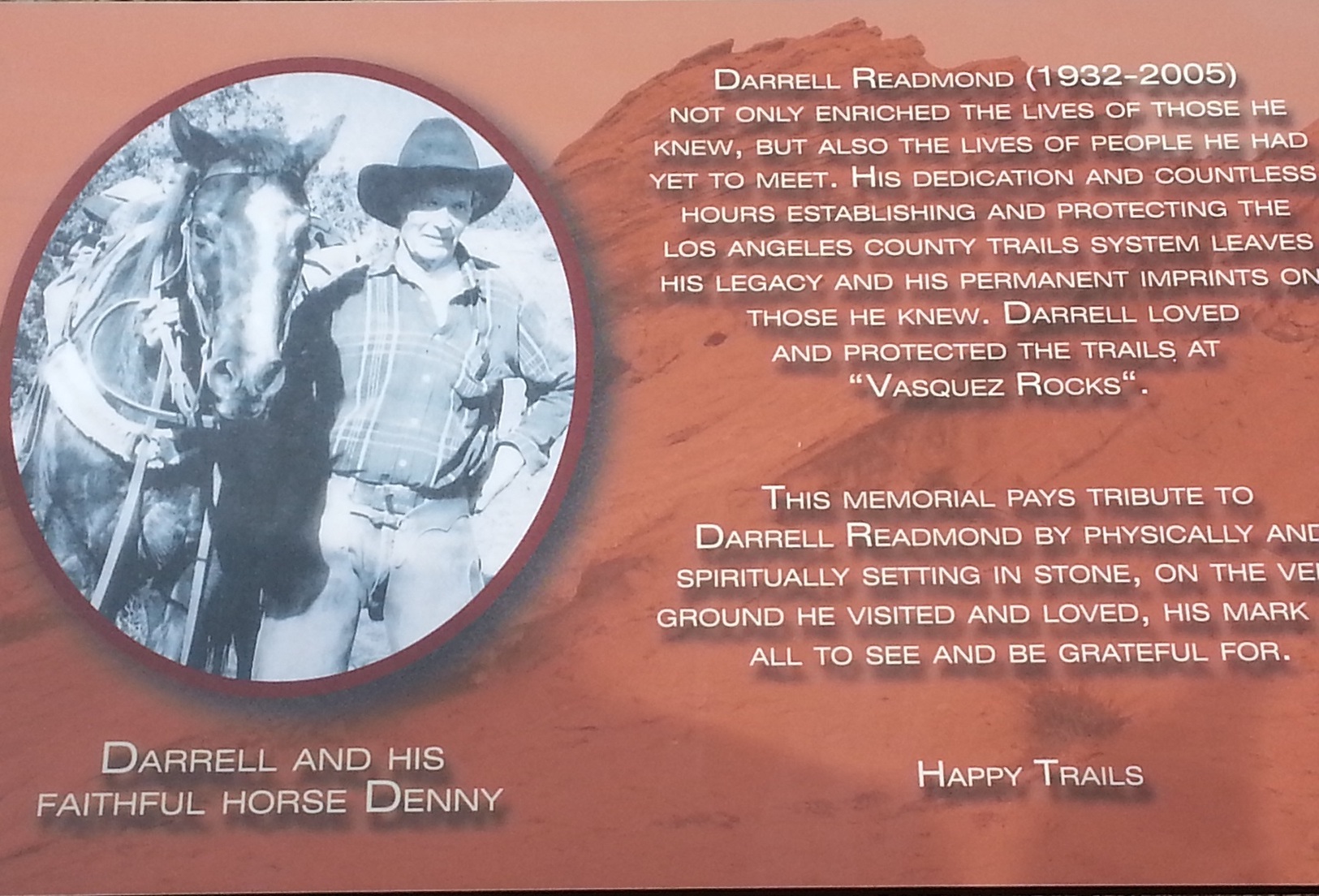 Darrell Readmond
(1932-2005) had the foresight in the 1950's to envision the Backbone Trail along the Santa Monica Mountains. He and friends checked topographic maps, rode various areas, and figured where the trail could go. It didn't happen right away, and others had the same vision later; but now, more than 50 years hence, it is finally a reality. Darrell dedicated his entire adult life to the protection of trails, protection from development and protection for status as national and historic trails. He was honored with a four-mile trail dedicated in his name by LA County Supervisor Antonovich. The trail is in Vasquez Rocks Park, a County park in Agua Dulce. The trail will connect to the Pacific Crest Trail when it is completed and will be part of a loop trail within the park. Darrell's trail advocacy was extensive, and he was well known throughout the trail community. He was a founder of ETI Corral 63 (Equestrian Trails Inc.) and also of the Acton-Agua Dulce Trails Council. How do we remember him? By working as he did to save the trails we now have and to acquire more. Do your part to continue his trail legacy, to ensure your trail enjoyment, and for those that follow us along the trails in future years.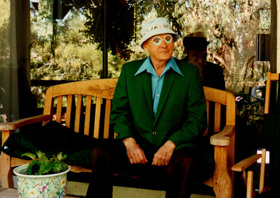 Hank Grateful, July 2001, one of the best-known builders of hiking trails in the Santa Monica Mountains. Grateful was one of the best-known builders of hiking trails in the Santa Monica Mountains, working as a long-time member of the Sierra Club's Santa Monica Mountains Task Force. Among his many accomplishments, he seemed to be proudest of his trail work. His telephone answering message started with "Hello, this is trail builder." Grateful was active in the mountains until a month before the end. He had adopted the Los Liones Canyon Trail in Pacific Palisades, clearing brush and correcting erosion problems at least twice a week, all year round. Hikers who use that trail remember and miss him. He was an outdoorsman all of his life, as a hunter, fisherman, camper and scuba diver. Temescal Canyon Association awarded him a life membership in recognition of his contributions to the environment.