Equestrians Riding the Backbone Trail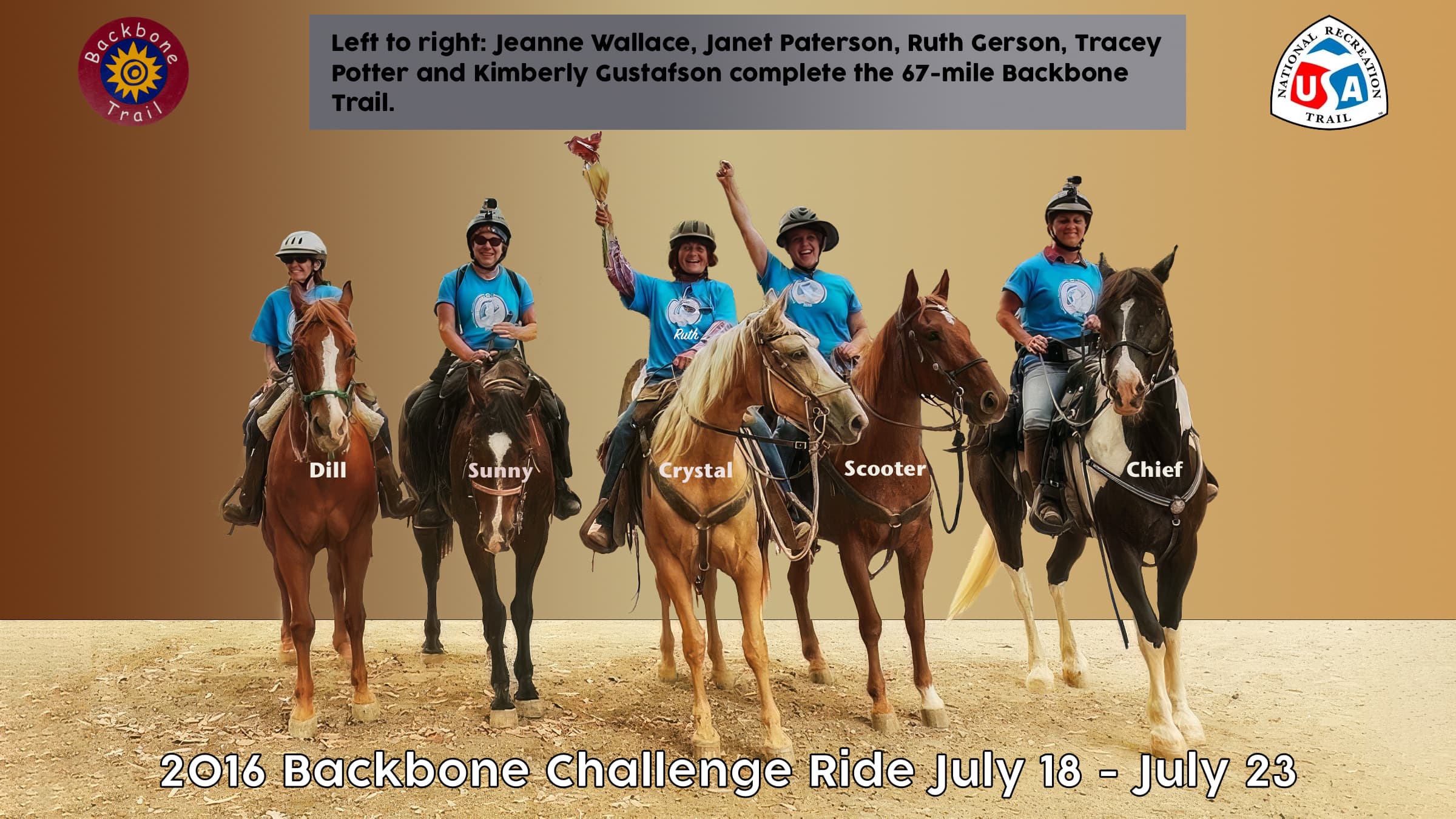 I did the ride for several reasons: I am grateful that at 80+ years I can ride that distance and enjoy it. I wanted to help publicize the Backbone Trail as a new National Recreation Trail. I hoped to inspire others to reach for their goals. I wanted to show land managers the great need for trail camps.
In the Summer of 2016, four women on horseback traversed the Backbone Trail (designated as a National Scenic Trail in 2016). From La Jolla Canyon in Point Mugu State Park to Will Rogers State Historic Park, the Backbone winds its way through the Santa Monica Mountains. Read on for a narrative and a few suggestions for others contemplating a ride along the Backbone Trail.
Press Coverage:

Non-Profit Supporters
Santa Monica Mountains Trails Council - website & FB
Recreation & Equestrian Coalition - fuel
Donors
Calamigos Ranch - fabulous dinner for 35, cabin available for riders
Harrison Maps - set of maps of Santa Monica Mountains
West Valley Horse Center
Bright Star Saddlery
Dr. Merle, Conejo Equine Vet
Numero Uno Pizza, Agoura
Pollo Loco, Agoura
ParkWatchReport - shirts for volunteers
---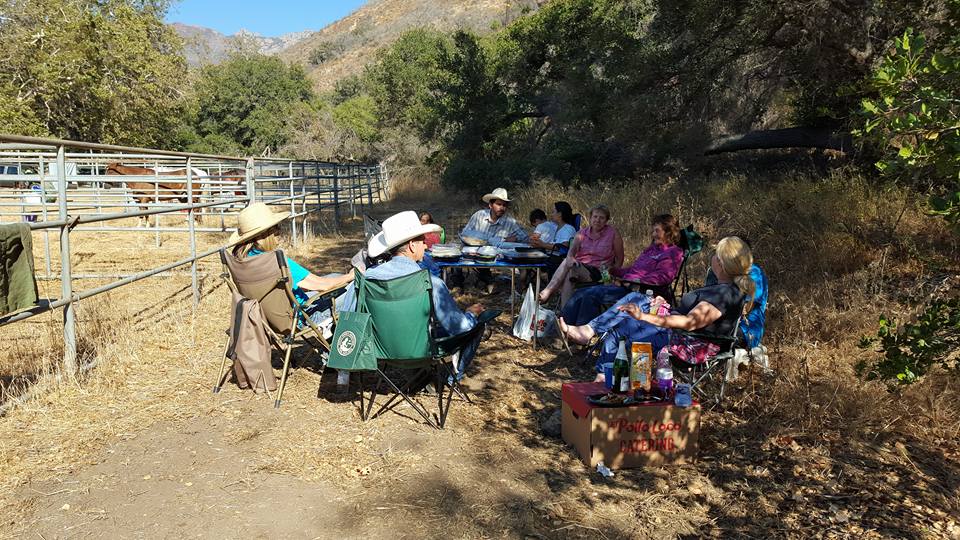 Day one: Todays ride was not too bad. Up the windy and narrow Ray Miller Trail, along the wide Overlook Trail and then down the wood Canyon Vista Trail into Sycamore Canyon. The distance was 8.2 miles with about 1,330 feet of elevation gain. Fine weather and good company made the time pass quickly. Camping was delightful under the Oaks and Sycamore trees at Danielson Ranch.
---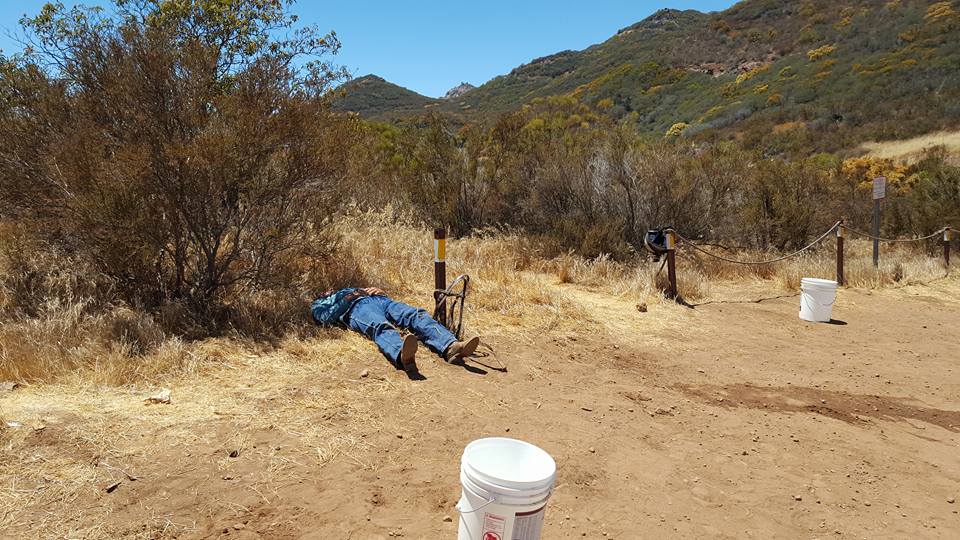 Day two: The ride today was much longer (nearly 14 miles) with lots of climbing (more than 3,000 feet). From Danielson Ranch we climbed up Blue Canyon to the Chamberlain Trail into the Sandstone Peak High Country. From there we dropped down to the Mishe Mokwa Trail head before finishing on the Backbone Trail where it crossed Little Sycamore Canyon Road. Thank you to the volunteers who provided water for the horses at the Mishe Mokwa Trail Head.
---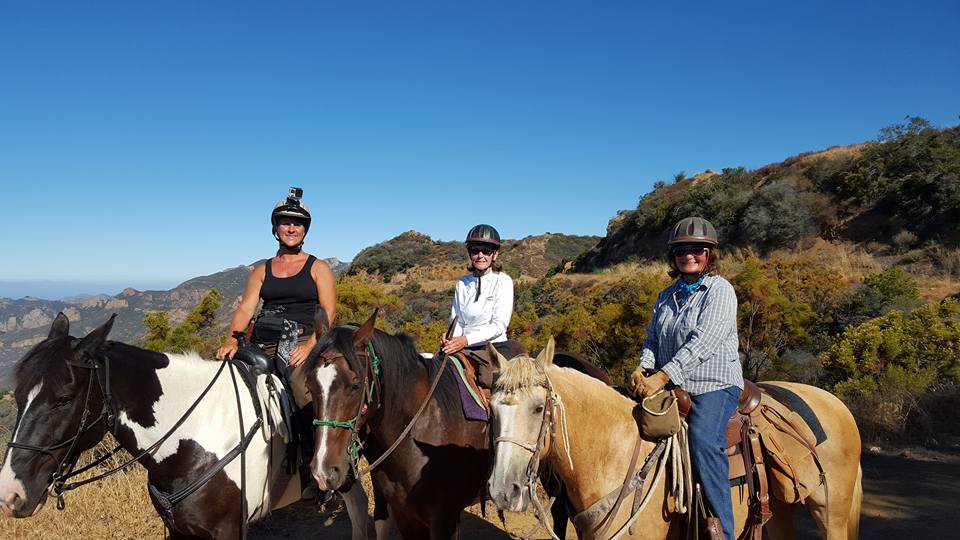 Day three: The ride today not as long as yesterday (nearly 10 miles) with bits of climbing and descending. From Litle Sycamore Canyon Road we climbed up the newly created Etz Meloy bypass trail; crossed Mulholland then meandered towards Encinal Canyon. From there we crossed into Trancas Canyon which we then rode towards Kanan Road.
---
Day four: From Kanan Road the trail traversed over to Latigo Canyon, down into Solstice Canyon up to Corral Canyon Road over towards Puerco Canyon and finally down Mesa Peak Fire road to Malibu Canyon Road. A hot but beautiful ride. No camps were available so the group stayed at a private ranch.
---
---